via Design Houston – Modernism emerges in quilting world
Is there such a thing as a hobby-crush? Because I have a hobby-crush on modern quilters. And as soon as I finish up my current sewing projects, I'm going to finally take a running leap into the quilting circle.
I've made two t-shirt quilts, so I understand the basic concept of how to make a quilt. But I've always wanted to design and sew my own quilt. It's on my list of 101 things, and I have a whole Pinterest board dedicate to quilts that I love! I love quilts because they are so cozy, and they can be used anywhere – wrapped up on the couch, laid out at the beach, or draped over the end of a bed.
I've recently been very intrigued by modern quilters – which makes sense for me – it's like graphic design in quilt form! Colors and compositions and weight and patterns. It's all the same whether it's on a screen, a canvas, or a quilt.
Here are some quilts that have been inspiring me lately:
Colorful quilt by Anna Maria Horner
This one is the quilt that really did me in.  I believe I "pinned" this image to my board with a caption that went something like "THIS IS GOING TO HAPPEN." Consider me inspired.
Meg Callahan was the first modern quilter I came across and she's amazing! Look at all the symmetry!
Scrappy Lone Star from the Modern Quilters Guild
I love this one by Janice Ryan of the Modern Quilters Guild! It takes the elements of the classic patchwork quilt and the modern colors, weighting, and composition make a fun and punchy quilt.
This awesome intertwined quilt is a pattern that will be available in September through Robert Kaufman.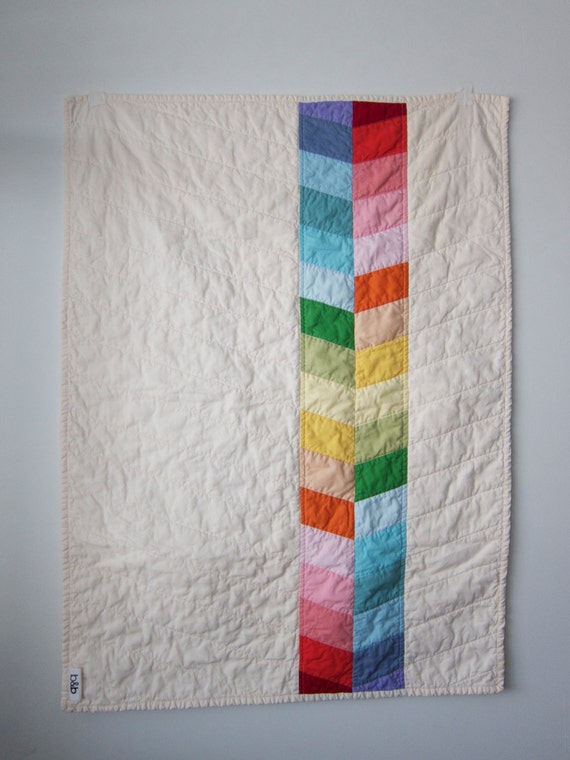 Move over teddy bears and ballerinas. This baby quilt by Etsy seller Bolt & Bias is beautiful!
Quilt by Angela Flicker – The Artists House
This colorful one is AMAZING!! I would love to attempt something like this quilt by Angela Flicker. She made this one for the Temporary Museum of Permanent Change and Craft Lake City's gallery exhibit titled, "Celebration of the Hand". Her Flickr photostream is full of other amazing examples of her work.
Now I just need to finish the projects I've already started!!
Save
Save