Vintage and retro travel ephemera is one of my favorite categories of art. I love that period of graphic design and adding a little kitsch to my home makes me smile. A while ago I purchased some vintage pennants and have been pondering where and how to use them. Today I'm rounding up a few ways I am considering how to display mine.
My new collection!
Frame Them
I've come across this amazing Wisconsin hotel before for it's fun interior design. I love the large square frame with the pennants arranged in a circle as a focal point above the bed. Source: Wandawega Hotel
Here is another amazing circular display for above the bed. I wonder how they attached this to the wall? Source: Country Living – Marisa Bistany home tour
An easy, classic alternative is to frame them individually. Source: Country Living – Holly Kuhn Home Tour
Hang Them
I love the added campiness of hanging them along a tree branch. Source: HGTV blog
This bunting of pennants is calling my name! Source: Home Tour of Hula Seventy on CafeStir
Another option shows them displayed on an old window. Source: Red Cottage Chronicles
Sew Them
Source: Thistlewood Farms
Source: MG Designs
I love these two pennant pillow ideas. My pennants are a little large for a pillow, but I do have one smaller one (my favorite one actually) that doesn't match the others in size, so this could be a fun way to use it.
How amazing is this pennant quilt? I would imagine it's quite scratchy, but a fun statement for sure. Source: I was unable to find the original source of this photo. If it is yours please comment so I can give you credit! Pinterest is a wonderful search tool, but can cause a lot of trouble in finding sources.
I love this kitschy Christmas tree skirt. What a unique idea. Source: HGTV blog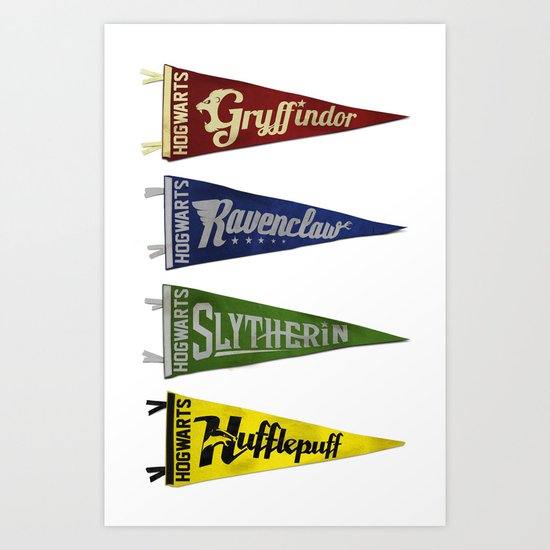 I came across these Harry Potter pennants on my search. How cool are these!? Source: Society 6
Pennants come in all different sizes and mine are on the longer end. While most people I've seen just hang them on the wall, I am leaning towards some sort of group arrangement in a frame to make it feel more finished. We shall see!
Save
Save
Save
Save
Save
Save
Save